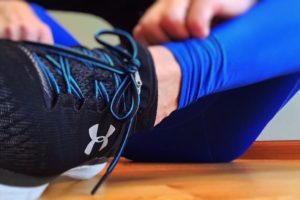 March has been declared as National Colorectal Cancer Awareness Month in February 2000. Colorectal cancer is the third most common form of cancer in the USA and is easily cured and treatable. One of the main ways to control colorectal cancer is regular screenings, but first, we need to make people aware of how common this form of cancer is and how much can be gained by regular screenings.
Show That You Support National Colorectal Cancer Awareness Month
The best way to show that you support the cause is to wear blue. March the 3rd is Dress in Blue Day and by wearing blue on this day you can show that you're taking colon cancer seriously. Wearing something blue during the rest of the month, such as a ribbon, can also be a way of showing your support. Actions like these are conversation starters and an easy way to spread the word about this easily treatable, but common illness.
Run In Support Of Colorectal Cancer
There are several running and walking events in support of colorectal cancer. The Undy Run is an event where participants can run in their briefs or boxer shorts (or anything else that's fun) to show their support to those who suffer from colorectal cancer. These runs are hosted in various states. Unfortunately, there aren't any Undy Runs scheduled in North Carolina. However, there is a Colon Cancer Coalition run scheduled for 4 March 2017 in Raleigh. It's a 5 km run/walk and there is also a kids' fun run.
Donate To Show Your Support
The Colon Cancer Alliance takes donations to do their invaluable work. You can go to their webpage to make a donation at the click of a button. You have a choice of giving a once-off donation or to give a monthly donation. The minimum donation is $10, but you can give as much as you like. The donations go towards funding research on colon cancer, providing high-quality patient support services and cancer prevention drives through encouraging people to screen for colon cancer regularly. The Colon Cancer Alliance wants to remove colorectal cancer from the top 3 list of cancers in the USA. You can also donate to the Colon Cancer Coalition. Gifts to the Colon Cancer Coalition support education and screening drives in your community to raise awareness and reduce the effects of colon cancer. It also supports survivors, national programs, and caregivers.
How To Spread The Word
Firstly, you can read about colon cancer on the Colon Cancer Alliance website. Once you are informed about colon cancer, there are many ways in which you can help to spread the word about the importance of getting screened for colorectal cancer. You can ask medical professionals to speak about it at a local club. You can simply talk about it with your family and friends. Use social media to spread the word by tweeting about colorectal cancer. Don't forget to tweet about the awareness drives such as Dress in Blue Day and running events. If your business has a newsletter you can add some information about colorectal cancer. You can also add a link to the Colon Cancer Alliance webpage or a badge from Health Finder on your own webpage.
When Should I Get Screened?
The Colon Cancer Alliance has a useful quiz that determines whether you need to get screened or not. If you're older than 50, you should definitely get screened as colon cancer is more prevalent in older patients. Even so, 10% of new colon cancer patients are under the age of 50. There are many factors that can influence how susceptible you are to colorectal cancer, so it's best to talk to your doctor if you feel that you might be at risk. Don't wait until it's too late.
It's really simple to be involved in the Colon Cancer Awareness Month. Read about colon cancer on the Colon Cancer Alliance website and share what you've learned with everyone you know. Participate in events to show that you care. If you can, make a donation to help fund awareness drives, research, and colon cancer support. And don't forget to wear blue on the 3rd of March!