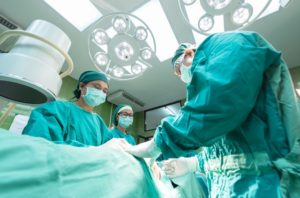 Living with a gastrointestinal condition is not a party. It's critical to choose the right doctor to treat your condition so as to improve your quality of life. Your primary care doctor may have diagnosed your gastrointestinal condition and recommended that you see a gastrointestinal doctor. You'll want to have a doctor with both excellent credentials and a good bedside manner. But where do you even start to look for the right doctor? Here's our five-step approach to choosing the right gastrointestinal doctor for you.
Ask for referrals
The best place to start is to ask others about their experiences. You can ask your primary care doctor for a referral to a good gastrointestinal doctor. Your primary care doctor will know which specialists are well qualified and good at their jobs. You can also ask your family and friends who have visited a gastrointestinal doctor for their opinions. They will be able to give you insight into the doctor's bedside manner and their general experience at the healthcare facility where he works. You can also ask for patient satisfaction surveys for doctors that you are considering if these are available. Patient satisfaction surveys will give you information regarding the quality of scheduling appointments, waiting times, the office environment, friendliness, trust, time spent with patients and how well the doctor answered their patient's questions.
Research credentials and experience
Once you have a shortlist of doctors with a good reputation, you can start researching the doctors' credentials. Find out whether the doctor is board certified and whether he or she have graduated from an accredited fellowship. Also look into the doctor's experience, specifically with cases dealing with your specific condition on patients of your age and gender. Another thing to consider is whether the doctor has a record of medical malpractice or disciplinary actions.
Research the healthcare facility
Your gastrointestinal doctor will perform all procedures at the healthcare facility or hospital with which he is affiliated. Research the quality of care at the healthcare facility. Endoscopy Center's with excellent care will have fewer cases with complications.  Also, consider the Endoscopy Center's location when you research healthcare facilities. Is the Endoscopy Center or healthcare facility accredited by AAAHC, or another highly recognized accreditation organization? It is important to learn as much as you can about the facility in which you plan to visit.
Find out about billing and insurance covers
Another factor to consider when choosing a gastrointestinal doctor is whether he or she participates in your insurance plan. You don't want to end up with a huge medical bill that your insurance will not cover.
Schedule an appointment
Schedule an appointment with your preferred doctor. Now it's your time to ask questions to determine whether the doctor under investigation is the right doctor for you. Ask questions that will give you feedback on the doctor's approach, education, emergency call philosophy, insurance coverage and medical billing. If you need to go for a colonoscopy there are a few questions that you can ask:
Is the doctor licensed?
Have the doctor received formal training in gastrointestinal endoscopy?
Was the doctor able to move through the entire colon for at least 90% of his cases?
How many colonoscopies does he or she perform annually? Look for a doctor with who does at least 100 colonoscopies per year.
Can the doctor perform the procedure at a licensed healthcare facility?
Does the doctor remove polyps during colonoscopies?
Does he or she provide intravenous sedation and does he or she monitor patients' blood pressure, pulse and blood oxygen while under sedation?
Will he or she be assisted by a trained endoscopic assistant or nurse?
Be sure to ask questions regarding the doctor's experience with patients with your specific condition and in your specific age and gender group. Something else to consider is the doctor's complication rate.
It may not be easy to obtain all of this information. Medical practitioners who are willing to share all of this information with you are more likely to be competent doctors that will be able to treat your condition with the necessary care. If all else fails, go back to your referrals. Word of mouth recommendations is invaluable when deciding which gastrointestinal doctor to choose.