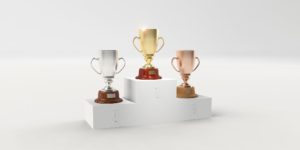 We bet that you didn't know that the Gastrointestinal Healthcare Facility is accredited by The Accreditation Association for Ambulatory Health Care (AAAHC). The AAAHC conducts an evaluation of licensed Ambulatory Surgery Centers, which measures the facility on 549 areas of patient care and quality measures. GIH received the excellent news that the Gastrointestinal Health Care facility not only achieved accreditation for a 3 year term, which is the maximum accreditation term, but we also scored perfectly on all 549 areas of patient care! This is our second time achieving a perfect score, which AAAHC indicates is a rare event!
GASTROINTESTINAL HEALTH CARE FACILITY SCORES UNPRECEDENTED PERFORMANCE IN THE AAAHC ACCREDITATION
The Gastrointestinal Health Care Facility received a perfect score on the accreditation questionnaire in December 2016. This is an extremely rare honor. It doesn't stop there. Gastrointestinal Health Care Facility has been one of a select few healthcare facilities to receive a second perfect survey score in the last 6 years! This is truly an unheard of achievement and worth a celebration. This makes Gastrointestinal Health Care Facility not only Raleigh NC's best gastrointestinal healthcare facility but also one of the best ambulatory healthcare facilities nationwide!
WHAT IS AMBULATORY HEALTHCARE?
Now you may ask what the fuss is all about. We'll tell you. Ambulatory healthcare is all about medical services that are performed on outpatients. Ambulatory healthcare can be practiced at dialysis clinics, surgical centers, hospital outpatient departments and physician offices such as ours. This means that we have scored the highest score possible for quality care outside of a hospital. Now, citizens of Raleigh, NC can rest assured that their gastrointestinal health is in good hands. Our perfect score on the AAAHC accreditation is a testament to the fact that we are committed to quality health care.
WHY IS AAAHC ACCREDITATION SO IMPORTANT?
The AAAHC strives to educate ambulatory healthcare facilities about the value of measuring and improving the quality of their services. We are already very serious about providing the best quality service that we possibly can – hence our getting a perfect score twice on the accreditation test. And this is quite a feat since there are 549 areas on which facilities such as ours are scored on. Imagine getting a full score on 549 questions! It's absolutely an accomplishment to be very proud of, especially since it means that we take extra care of ensuring that we provide the highest quality service possible in gastrointestinal outpatient care.
HOW DOES THE ACCREDITATION PROCESS WORK?
The AAAHC looks at how clinical procedures are executed, for example, whether a colonoscopy has been done according to their standards. They also look at how patients are doing after their clinical procedure by evaluating aspects such as their health status and satisfaction after the procedure. Cost is also a big role player in the accreditation study. Healthcare facilities need to complete 15-25 one-page surveys before they can participate in the accreditation process. Once the application has been completed, an onsite surveyor with knowledge of the specific ambulatory services provided by the health care facility does a site visit to evaluate the facility in action. After the written and on-site surveys have been completed the findings are communicated to the healthcare facility.
WHAT'S NEXT FOR Gastrointestinal Health Care Facility GASTROINTESTINAL HEALTH CARE?
We are naturally very proud of our achievement in the AAAHC accreditation score this year, but we refuse to become complacent due to a perfect score. We will continue to strive for perfection in ambulatory health care and will aim to get another perfect score on the AAAHC accreditation next year. There is nothing more important to us than providing quality health care and by getting AAAHC accreditation, and a perfect score while we're at it, is our way of showing our community that we care about your health.